IUOE Local 825 Welfare Plan participants and dependents enjoy comprehensive healthcare benefits.
These benefits provide coverage for medical, surgical, hospital, prescription drug, dental and vision expenses, as well as life insurance and survivor benefits.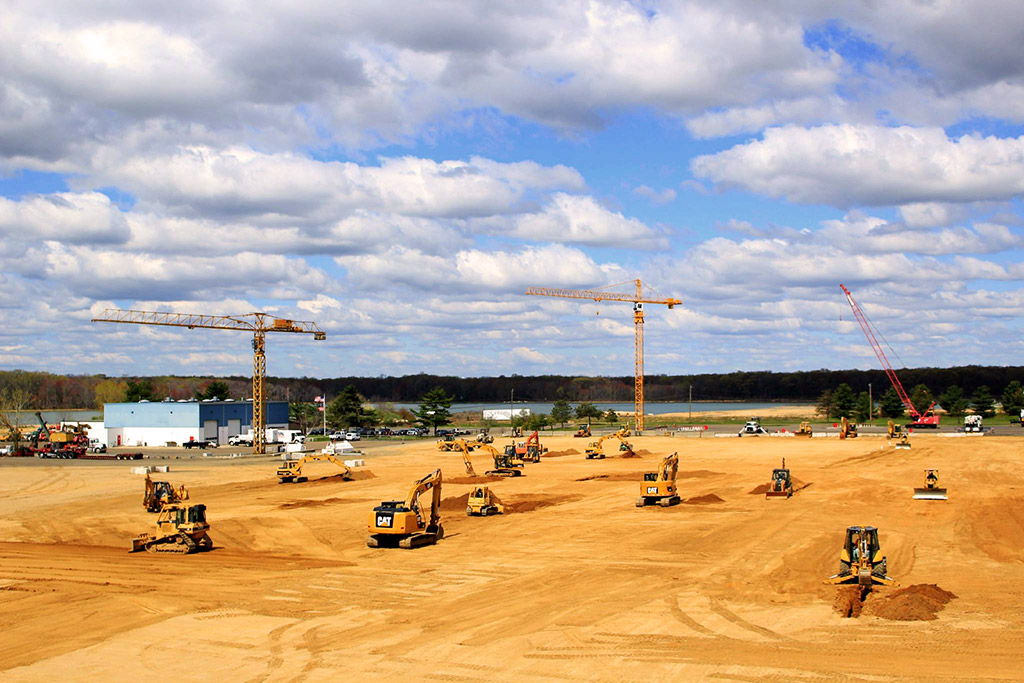 Benefits
Documents
Eligibility
Level of Benefit
Enrollment
Using the Fund
Termination
FAQs
Forms
Updates
In addition to comprehensive healthcare, your welfare benefits include:
A life insurance benefit of $1,000 for each year of participation, up to maximum of $25,000.
Survivor benefits -- If unretired and eligible for benefits at the time of death, health coverage for your surviving spouse and dependent children continues for up to 60 months. Additionally, a monthly survivor benefit is payable.
A supplemental accident and sickness benefit of $350 weekly for up to 26 weeks
Contributions to the Welfare Fund are based on a collective bargaining agreement.
Your initial and continued eligibility for benefits are determined by the collective bargaining agreement under which you are employed.
Use the charts below to determine your eligibility. And remember, there may be a delay between the period you work and the period you are eligible for benefits.
If you work under an outside construction contract, or if you work under a shop contract, which provides for quarterly eligibility, your eligibility is determined as follows:
| Eligibility Period | Contributions received for Work Performed |
| --- | --- |
| January-March (current year) | July-September (previous year) |
| April-June (current year) | October-December (previous year) |
| July-September (current year) | January-March (current year) |
| October-December (current year) | April-June (current year) |
---
If you work under a shop contract which provides for monthly eligibility, your eligibility is based upon work performed in the month immediately preceding the eligibility month
– OR –
work performed in the month which is two months preceding the eligibility month as follows:
Eligibility Period
Contributions received for Work Performed
January (current year)
December (previous year)
March (current year)
February (current year)

OR

January (current year)
October (previous year)
April (current year)
January (current year)
Your Level of Benefit
There are four benefit levels for which you can become eligible. These levels and the monthly, quarterly and yearly costs (premiums) effective October 1, 2018, are:
| Level | Monthly | Quarterly | Yearly |
| --- | --- | --- | --- |
| 1 | $1,265 | $3,795 | $15,180 |
| 2 | $1,278 | $3,834 | $15,336 |
| 3 | $1,370 | $4,110 | $16,440 |
| 4 | $1,599 | $4,797 | $19,188 |
---
Level 1 includes life insurance benefits, survivor benefits, accidental death and dismemberment, inpatient hospital, outpatient pre-admission testing, outpatient emergency room, in-network surgical centers, convalescent care, ambulance, home health care, surgical, anesthesia, doctor visits, X-ray and lab, maternity, EAP, mental health, substance abuse, Medicare, chiropractor and podiatrist.
Level 2 includes all benefits under Level 1, plus vision and accident and sickness.
Level 3 includes all benefits under Levels 1 and 2, plus dental.
Level 4 includes all benefits under Levels 1, 2 and 3 plus prescription drugs.
Enrolling a new dependent
If you wish to enroll a dependent (due to marriage, birth or adoption or placement for adoption) you must request enrollment and provide a copy of supporting documentation within 30 days of the event or else coverage will not be effective until the first of the month following our receipt of your request and documentation.
Event
Documentation to Submit
Marriage

Spouse's birth certificate
Marriage certificate
Fund's inquiry regarding existence of spousal coverage

Birth

Child's birth certificate
If the child is born out of wedlock, also submit legal documentation confirming responsibility for child's health coverage

Stepchild

Child's birth certificate
Legal documentation confirming responsibility for child's health coverage

Adoption

Child's birth certificate
Adoption paperwork
---
Notes:
If documentation is submitted within 30 days, your new dependent will become eligible for coverage as of the event date.
After 30 days, coverage will become effective on the first of the month following receipt of documentation.
The fund reserves the right to request additional documentation required to establish a dependent's eligibility.
Before You Receive Certain Care ...
The Welfare Plan requires that you or your provider call to preauthorize certain services; and when required, we recommend you or your provider call at least seven days before scheduled treatment. For emergency treatment, call within two working days or as soon as reasonably possible.
For hospital-based treatment (including participating surgicenters), call the Fund's Office at 973-671-6800 and choose the prompt for Pre-certification.
For treatment to be provided in a facility other than a hospital, such as a physician's office or a free-standing diagnostic facility, or for durable medical equipment supplies, providers should contact:
Evicore for diagnostic imaging at 866-241-6603
CareCentrix for durable medical equipment at 855-243-3321
Horizon Utilization Management for other services at 800-664-2583
Questions -- including where to call -- should be directed to the Fund's Office.
If you do not preauthorize treatment, benefits will be denied unless medical necessity is later established. Following is a list of services which require preauthorization:
All hospital activity
Surgical procedures
Moh's surgical procedures
Skilled nursing facility
Infertility treatment
Home health care
Home IV therapy
Diagnostic testing over $600
Long-term treatment plans such as rehabilitation; speech, physical, occupational or radiation therapy
Drug therapy such as AZT, chemotherapy
Durable medical equipment over $300
At time of preauthorization you or your provider will be told if proposed treatment is covered. Please note: Preauthorization does not guarantee eligibility or payment.
Emergency Room Coverage
Medically necessary services provided within 48 hours of an accident or sudden or serious illness and billed by an emergency room provider that is a licensed MD or DO, using procedure codes denoting emergency care, are payable at 100 percent.
All other charges (for example, charges of a plastic surgeon to close a wound) are payable in accordance with the Plan's reasonable allowances, subject to the deductible, coinsurance, copayments, and charges in excess of the Plan's allowances for out-of-network providers or, if services are provided by a network provider, are payable in accordance with the Plan's contracted rates, subject to any copayment.
If coverage terminates for other than your decision to leave the industry, excess contributions are carried forward to a maximum of four quarters or 12 months. After exhausting excess contributions, you then have the option of self-purchasing coverage for an additional four quarters or 12 months.
Frequently Asked Questions
How can I utilize medical services with the least out of pocket expenses?
By using an in-network provider in the Horizon PPO Blue Card network you will only be responsible for your applicable copayments on services covered under the Plan for that provider.  For assistance in locating an in-network provider you can call Horizon's Provider Locator at 800-810-2583 or log onto https://doctorfinder.horizonblue.com and choose Horizon PPO as your Plan.
What medical cards do I use?
For Hospital Services, Ambulatory Surgery Centers, Behavioral Health (Mental Health and Substance Abuse), Physicians, and other Medical Supplies and Services use your Horizon Blue Cross of New Jersey card effective April 1, 2018.   *Please note there is no coverage for Ambulatory Surgery Centers who are not contracted as in-network providers with Horizon BCBSNJ.
For prescriptions, use your CVS/Caremark card.
For dental services, present your Fidelio card.
For retired members who have Medicare, effective 10/1/2016, present your Aetna Medicare Advantage card for hospital, physician services and prescriptions.  Providers and members should call Aetna for network status, coverage questions or for precertification at 888-267-2637.  Retired members should continue to use the Fidelio card for dental services.
What if I use a hospital or surgery center that is not in-network with Horizon BCBSNJ?
There is no penalty for outpatient services, emergency room visits or admissions that result from an emergency at an out-of-network hospital.  For planned admissions to a hospital that is out-of-network with Horizon BCBSNJ, you will be subject to a $500 deductible and 30% coinsurance. There is no out-of-network benefit for Ambulatory Surgery Centers that are not contracted with Horizon BCBSNJ and you are responsible for the full charges.
It is the member's responsibility to check the status of an Ambulatory Surgery Center.
Do I need to precertify medical services?
For simple x-rays other than CT Scans and MRIs, and what would be considered routine physician visits and laboratory tests you do not need to precertify these services. For ER Visits, In-Patient Admissions and Outpatient Surgeries call the Funds Precert Department at 800-677-3237 and choose prompt 7.  For CT Scans and MRIs, your physician must call a division of Horizon known as Evicore at 866-241-6603.
Please call the Funds Precert Department at 800-677-3237 and choose prompt 7 for questions about precertifying services not listed above.
Immunization for flu, pneumonia and shingles are covered benefits.
If your flu, pneumonia, or shingles vaccines are administered in conjunction with a physician visit, your provider should submit your claim to Horizon Blue Cross Blue Shield of New Jersey  for processing in accordance with the Plan.
If you choose to obtain your vaccine at a pharmacy or supermarket and not in conjunction with a physician's visit, we will reimburse you 100% of the cost up to $32 for the injectable flu vaccine, $40 for Flumist and up to $90 for the pneumonia vaccine.
Submit your receipt, indicating vaccine administered and charge, to the Welfare Fund, Attn: Medical Claims Department, 65 Springfield Avenue, Second Floor, Springfield, NJ 07081. Be sure to write on the receipt the patient's name and the member's name and Social Security number or the member's ID number from his or her prescription card.
Dependent coverage -- The Health Care Reform Law allows qualifying young adults to remain on their parents' insurance plan up to age 26, regardless of the availability of coverage from other sources. Dependents:
Can be single or married
Do not need to be a college student
Do not need to live with their parents
Will not be covered after turning 26
If your adult child is covered by another group health plan, the Welfare Plan will coordinate its payments with the other plan.
Motor vehicle claims -- Don't forget, medical claims resulting from a motor vehicle accident are not covered. Keep this in mind when choosing Personal Injury Protection (PIP) coverage under your auto insurance.